The Board
We may specialise in reclaimed scaffold boards, but for some purposes a new board fits the bill better. These brand new boards are kiln dried to a moisture content of 6-8%, meaning that they are ideal for makers.

Our new boards are completely unused.

Item Specifications
This listing is for a new board, kiln dried, unsanded. For new boards which are sanded or styled, please check our New Scaffold Boards product category. For reclaimed boards please click back to our Reclaimed Scaffold Boards product category. Brackets not included with this listing - please see brackets here.

Grade: Not BS graded. Not to be used in scaffolding.
Material: Wood (pine or European whitewood)
Dimensions: 225mm wide, 38-40mm thick, length as per options above
End bands: Boards are sent de-banded
Item No: NK01

Shipping
Shipping is calculated at checkout, but please find below a guide to shipping costs for your information. Boards weigh approx 1.2kg per ft. You are also welcome to collect from our Frome (Somerset) shop for no charge, this option is available at checkout.

Boards up to and including 4ft in length
- 2kg = £4.99
- 5kg = £5.99
- 10kg = £8.99
- 15kg = £9.99
- each 15kg increase adds £10 thereafter
Boards from 5ft to and including 10ft in length
- 20kg = £24.99 (except for 5ft = £19.99)
- 40kg = £34.99
- each 20kg increase adds £10 thereafter
Boards from 11ft to and including 13ft in length
- 20kg = £49.99
- 40kg = £62.50
- each 20kg increase adds £12.50 thereafter
Please note
- These boards are kiln dried and therefore have a low moisture content.
- These boards are not graded to a BS standard and therefore are not suitable for use in any scaffold system. They are intended for furniture and other similar uses only.
- The photos are a good representation of what you will receive but each board will be slightly different to the next.
- The colour will also vary according to the screen it is displayed on.
Cutting service
We do not charge any extra to cut a board to a particular length. To make use of this service please add to your basket the closest size of board to the size you require, for example if you would like a 55cm length board and an 82cm length board please add one 60cm board and one 90cm board.
We do charge for rip cuts to a particular width, at £1 per foot (30cm). For example, to rip a 300cm (10ft) board from 225mm wide to 180mm width, the cost would be £10 for this service. You can add this to your order by adding the Rip Cut product below - you will initially only be able to add 1 at £1, but when you go to your basket you can adjust the quantity accordingly (in the above example you would change the quantity to 10). Don't worry - if you choose too many or too few then we can always edit the order for you and credit/invoice for the balance.
You can then let us know the custom sizes you require at the basket stage. When you view your basket you should see an option to "Add instructions for seller" - please click on this and specify the required sizes. We'll see this note on your order and cut accordingly.
Samples
To purchase any of the above options in a smaller sample size please see our Sample Pieces.
---
Customer Reviews
Customer Reviews
13/12/2021
Drew W.

United Kingdom
15/09/2021
Paul T.

United Kingdom
Industrial shelving.
A really good experience. I had an email within an hour of ordering to say they were ready for collection. Good quality boards with no twisting & very few knots.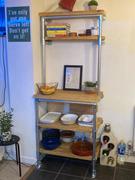 16/09/2021
The Scaff Shop
Thank you very much for the feedback. The unit you've built looks great! Please let us know if there is anything else that we can help with in the future!
06/07/2021
Emma B.

United Kingdom
Scaffold boards
Amazing service as always guys. Thank you. Given how much the price of wood has gone up, your prices are extremely reasonable. Will certainly be using you again!
10/08/2021
The Scaff Shop
Thank you for this feedback. We've been trying our best to keep the prices as low as possible, despite the price rises. Glad to hear you're happy with them :).
14/04/2021
James W.

United Kingdom
New scaff boards
Great service, easy to order and quick turn around. Highly recommended
28/04/2021
The Scaff Shop
Really great to hear that you're happy with the service and turnaround time. Please do let us know if there is anything else that we can help with.
12/03/2021
Ross P.

United Kingdom
Friendly!
Fast friendly pick up, very good experience.
28/04/2021
The Scaff Shop
We're really please to hear that. We hope to hear from you again in the future.