The Board
A reclaimed scaffold board is both a functional and beautiful item, displaying all the rugged character of aged wood, but with the strength and hard-wearing qualities that a scaffold board needs to survive the rough and tumble of a building site. As such, they are ideal for a multitude of purposes, whether as flooring, cladding, shelving, furniture and more.

If our boards could speak, they could each tell a different story. Instead of words, they show this through their knocks and dents, their scratches and scrapes, all of which add to their charm and make it so that no board is the same as another.

Remember - it's these imperfections that make them perfect!
Item Specifications
This listing is for an unsanded reclaimed board. For sanded or styled reclaimed boards, please click back to our Reclaimed Scaffold Boards product category. For new boards please click here. Brackets not included with this listing - please see brackets here.

Grade: British Standard, kite-marked (highest grade available)
Material: Wood (pine or European whitewood)
Dimensions (approx): 225mm wide, 38mm thick, length as per options above
End bands: Unsanded boards will usually be sent de-banded, however we cannot guarantee this on all orders. If you specifically require the boards de-banded then please get in touch before ordering and we can advise if there will be an extra cost to ensure this.
Item No: RC01

Shipping
Shipping is calculated at checkout. To see an estimate for shipping, please add the required items to your basket, view your basket, then click "Get shipping estimates". You are also welcome to collect from our Frome (Somerset) shop for no charge, this option is available at checkout.
Please note
- Please refer to our Product Notes page (click here) for advice on some things to consider when buying this product. We ask all customers to read this before purchasing.
Cutting service
We do not charge any extra to cut a board to a particular length. To make use of this service please add to your basket the next larger size of board to the size you require, for example if you would like a 55cm length board and an 82cm length board please add one 60cm board and one 90cm board.
We do charge for rip cuts to a particular width, at £1 per foot (30cm). For example, to rip a 300cm (10ft) board from 225mm wide to 180mm width, the cost would be £10 for this service. You can add this to your order by adding the Rip Cut product below - you will initially only be able to add 1 at £1, but when you go to your basket you can adjust the quantity accordingly (in the above example you would change the quantity to 10). Don't worry - if you choose too many or too few then we can always edit the order for you and credit/invoice for the balance.
You can then let us know the custom sizes you require at the basket stage. When you view your basket you should see an option to "Add instructions for seller" - please click on this and specify the required sizes. We'll see this note on your order and cut accordingly.
Samples
To purchase any of the above options in a smaller sample size please see our Sample Pieces.
How "reclaimed" is your board?
We all love rustic looking boards, that's why we're here after all! But one person's idea of rustic can be quite different to another. We want you to be completely happy with the board you receive and so we now offer a representation below for those who would like to specify exactly how rustic they would like their board to be. If you don't have a particular preference then please don't worry, we'll pick a board with plenty of character but still in great condition to use, one we would be happy to have ourselves.
---
Customer Reviews
04/09/2022
Brian B.

United Kingdom
Scaffold boards
Excellent boards for shelf's amazing quality and service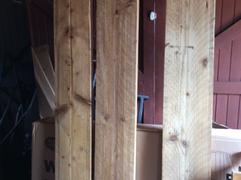 08/09/2022
The Scaff Shop
Hi Brian, Thanks for the positive review and the image. The boards always look great as shelves, they are so versatile with a wide range of uses. We are happy that you are so pleased with our products and service, we are always here to help. Many Thanks, The Scaff Shop
22/08/2022
Jeanette R.

United Kingdom
4ft scaffold boards
Fast delivery and brilliant for what I needed them for. Would definitely use again
26/08/2022
The Scaff Shop
Hi Jeanette, thanks for the great review and photos. The boards look great, good work! We are happy that you are pleased with them, hopefully we can help you out again at some point. Many Thanks, The Scaff Shop
10/08/2022
Colin D.

United Kingdom
Conservatory Rebuild
Excellent service. My boards sanded up really well. The quality of the boards was far better than I was expecting.
11/08/2022
The Scaff Shop
Hi Colin, Thank you for the great review and superb photos. The boards look so good, excellent work! We are happy that you are pleased with them, hopefully we can help you out again in the future. Many Thanks, The Scaff Shop
10/08/2022
Mark R.

United Kingdom
Leisure Barn Build
Very good product and service. Boards were supplied in good used condition and required very minimal work to install. Collection was easy and now they're installed they set the barn off with a nice rustic feel.
10/08/2022
The Scaff Shop
Hi Mark, Thank you for your positive review and great photos, the boards look really good! Excellent work! Glad that you are happy with them, hopefully we can help you out again in the future. Many Thanks, The Scaff Shop
27/07/2022
Tom P.

United Kingdom
Great service!
I ordered a non sanded board for a second tier on my desk. The board was a little thinner than expected and did have a slight warp in it which took a lot of sanding to get right but apart from that the wood grain is gorgeous with some teak oil and I'm very happy with it!
29/07/2022
The Scaff Shop
Hi Tom, Thanks for your review, glad to hear that you are happy with the finished result. Unsanded boards do sometimes need a bit of care and attention, but once worked on and oiled they can look really good. Hopefully we can help you out again in the future. Many Thanks, The Scaff Shop