The Wood
Pallet wood is an excellent choice for a variety of uses. From artistic pieces to wall cladding, the varying tones and hues of pallet wood make it a beautiful wood to use.
This pallet wood is new but has a rustic appearance to it due to the air drying process and is therefore great if you're looking for timber which still has some character despite being new.
Item Specifications
This listing is for a new unsanded board. For sanded boards or styled boards please click back to our Pallet Wood product category. These boards have not been nailed.

Grade: Heat treated (not chemically treated)
Material: Wood
Dimensions (approx): See length options above.
Width - 100mm
Thickness - 16mm
Item No: PW01

Shipping
Shipping is calculated at checkout. To see an estimate for shipping, please add the required items to your basket, view your basket, then click "Get shipping estimates". You are also welcome to collect from our Frome (Somerset) shop for no charge, this option is available at checkout.
Please note
- Because the item is new timber, the moisture content will be higher than our reclaimed boards.
- With new pallet wood there is usually one "good" face, and the opposite face may be slightly chamfered due to the way the timber is cut.
- The photos are a good representation of what you will receive but each board will be slightly different to the next.
- The colour will also vary according to the screen it is displayed on.
Cutting service
We do not charge any extra to cut a board to a particular length. To make use of this service please add to your basket the next larger size of board to the size you require, for example if you would like a 55cm length board and an 82cm length board please add one 60cm board and one 90cm board.
We do charge for rip cuts to a particular width, at £1 per foot (30cm). For example, to rip a 120cm (4ft) board from 75mm wide to 50mm width, the cost would be £4 for this service. You can add this to your order by adding the Rip Cut product below - you will initially only be able to add 1 at £1, but when you go to your basket you can adjust the quantity accordingly (in the above example you would change the quantity to 4). Don't worry - if you choose too many or too few then we can always edit the order for you and credit/invoice for the balance.
You can then let us know the custom sizes you require at the basket stage. When you view your basket you should see an option to "Add instructions for seller" - please click on this and specify the required sizes. We'll see this note on your order and cut accordingly.
Samples
To purchase any of the above options in a smaller sample size please see our Sample Pieces.
---
Customer Reviews
23/06/2022
Sally P.

United Kingdom
Great Service
Quick turnaround of order. First order was better quality than my second but was still fine. Great to look around their showroom for inspiration.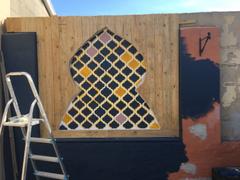 24/06/2022
The Scaff Shop
Hi Sally, Thank you for the positive review. We are glad to hear that visiting our showroom helped inspire you, hopefully we can assist you again in the future. Many Thanks, The Scaff Shop
20/06/2022
Stuart J.

United Kingdom
Fence panels
Very pleased with products and pleasant staff
21/06/2022
The Scaff Shop
Hi Stuart, Thank you for the great review, it is always good to hear that our customers are happy with us. Hopefully we can help you again in the future. Many Thanks, The Scaff Shop
20/06/2022
Emily F.

United Kingdom
Pallet boards
Great. Nice wood. Easy to order.
20/06/2022
The Scaff Shop
Hi Emily, Thank you for the great review, glad to hear that you are happy with your order. Hopefully we can help you again in the future. Many Thanks, The Scaff Shop
08/06/2022
Tim H.

United Kingdom
Outside bar
All good, simple to order and as local I picked up. I need more bits so will re order.
09/06/2022
The Scaff Shop
Hi Tim, Thank you for the great review. Hopefully we can help you out again in the future. Many Thanks, The Scaff Shop
13/05/2022
Miss J.

United Kingdom
Pallet wood perfect for the Allotment
Great service with the pallet wood I've used to edge beds on the allotment, and super useful that I could get the lengths that were slightly to long cut down to the size I needed before being shipped to me.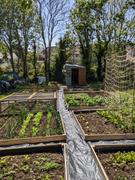 18/05/2022
The Scaff Shop
Hi Judith, Thanks for the great review. The pallet wood looks good in the allotment, glad that we could help. Many Thanks, The Scaff Shop