The Wood
Pallet wood is an excellent choice for a variety of uses. From artistic pieces to wall cladding, the varying tones and hues of pallet wood make it a beautiful wood to use.
This pallet wood is new but has a rustic appearance to it due to the air drying process and is therefore great if you're looking for timber which still has some character despite being new.
Item Specifications
This listing is for a new unsanded board. For sanded boards or styled boards please click back to our Pallet Wood product category. These boards have not been nailed.

Grade: Heat treated (not chemically treated)
Material: Wood
Dimensions: See length options above.
Width - 100mm
Thickness - 16mm
Item No: PW01

Shipping
Shipping is calculated at checkout, but please find below a guide to shipping costs for your information. Boards weigh approx 0.1kg per ft. You are also welcome to collect from our Frome (Somerset) shop for no charge, this option is available at checkout.

Boards up to and including 4ft in length
- 2kg = £4.99
- 5kg = £5.99
- 10kg = £8.99
- 15kg = £9.99
- each 15kg increase adds £10 thereafter
Boards from 5ft to and including 10ft in length
- 20kg = £24.99 (except for 5ft = £19.99)
- 40kg = £34.99
- each 20kg increase adds £10 thereafter
Boards from 11ft to and including 16ft in length
- 20kg = £49.99
- 40kg = £62.50
- each 20kg increase adds £12.50 thereafter
Please note
- Because the item is new timber, the moisture content will be higher than our reclaimed boards.
- With new pallet wood there is usually one "good" face, and the opposite face may be slightly chamfered due to the way the timber is cut.
- The photos are a good representation of what you will receive but each board will be slightly different to the next.
- The colour will also vary according to the screen it is displayed on.
Cutting service
We do not charge any extra to cut a board to a particular length. To make use of this service please add to your basket the next larger size of board to the size you require, for example if you would like a 55cm length board and an 82cm length board please add one 60cm board and one 90cm board.
We do charge for rip cuts to a particular width, at £1 per foot (30cm). For example, to rip a 120cm (4ft) board from 75mm wide to 50mm width, the cost would be £4 for this service. You can add this to your order by adding the Rip Cut product below - you will initially only be able to add 1 at £1, but when you go to your basket you can adjust the quantity accordingly (in the above example you would change the quantity to 4). Don't worry - if you choose too many or too few then we can always edit the order for you and credit/invoice for the balance.
You can then let us know the custom sizes you require at the basket stage. When you view your basket you should see an option to "Add instructions for seller" - please click on this and specify the required sizes. We'll see this note on your order and cut accordingly.
---
Customer Reviews
Customer Reviews
13/05/2022
Miss J.

United Kingdom
Pallet wood perfect for the Allotment
Great service with the pallet wood I've used to edge beds on the allotment, and super useful that I could get the lengths that were slightly to long cut down to the size I needed before being shipped to me.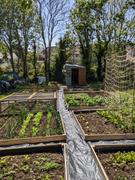 18/05/2022
The Scaff Shop
Hi Judith, Thanks for the great review. The pallet wood looks good in the allotment, glad that we could help. Many Thanks, The Scaff Shop
27/04/2022
Robert C.

United Kingdom
Excellent service
I ordered the pallet wood to create vegetable containers for my garden. The delivery was quick and the wood came wrapped efficiently and I am using the cardboard at the bottom of the containers! Have constructed 3 so far, with 2 more to be built at the weekend. Happy customer.
28/04/2022
The Scaff Shop
Hi Robert, Thank you for the great review. We are glad that you are happy and hope that you enjoy completing your project! Many Thanks, The Scaff Shop
09/03/2022
Sarah T.

United Kingdom
Excellent products and service
I got the unsanded pallet wood for using to create some beds in my allotment & then more to create some extra beds; being able to choose the length was why I chose this option over taking apart pallets myself, it made it a much easier process. I can't fit long lengths in my car as it's so small so opted for delivery over collection & found the service prompt & product arrived in good time. Very happy customer.
15/03/2022
The Scaff Shop
Hi Sarah, Thanks for the positive review, it is always nice to hear how our customers are using the wood in all sorts of creative ways. We are glad to help and pleased that we made it easier for you. Many Thanks, The Scaff Shop
04/10/2021
Tracey G.

United Kingdom
Super service
Second time of ordering very pleased with our orders will be using again, you can never, not have enough raised beds and the scaff boards and pallet wood are perfect. Thankyou
19/10/2021
The Scaff Shop
Hi Tracey. Thank you for this review. They really do mean a lot. We are glad that you are happy with your orders. Many Thanks The Scaff Shop
02/07/2021
Simon P.

United Kingdom
All Good
Bought a load of unsanded pallet wood new to panel a BBQ kitchen. Had to wait a few days to collect, order was ready and waiting on the day. Out of 80 odd lengths I only had one split one and one broken end. I consider that to be pretty good. Happy with the end result, would use again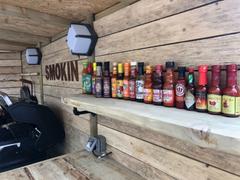 10/08/2021
The Scaff Shop
The BBQ kitchen looks awesome!! Thank you very much for taking the time to give feedback and for the photo too. We're suddenly feeling very peckish here....