The Samples
We know that many of you would like to see a sample of what you're planning to purchase before taking the plunge and putting the full order in. Here you can order a sample block which can be bought in any one of our finishes. This is cheaper than buying even the smallest (1ft) size of the item itself, so gives you a great way of seeing the different finishes that we have.

We specialise in reclaimed boards but now also offer new boards too after popular demand, so we now offer samples in both.
Item Specifications
This listing is for one sample piece, with various sanding and finishing options available (see below). For full boards, please see our Reclaimed Scaffold Boards or New Scaffold Boards product categories.
Grade: British Standard, kite-marked (highest grade available)
Material: Wood (pine or European whitewood)
Dimensions: 38mm thick
Item No: S01

Sanding options
- Light (hand) sand: We give the board a light sand by hand. This takes out any lumps and bumps and leaves the board smoother than when it is unfinished. All hard edges are also smoothed off.
- Full (machine) sand: The board is drum sanded, which takes out any un-evenness and makes the board more uniform in appearance and thickness. It will still retain many of the characteristic dents and splits which make a reclaimed board what it is, but make it more suitable for furniture making.
Oil options

- None: Does what it says on the tin. But no oil, and no tin, in this instance. Ideal for those who prefer to oil the board themselves.
- Danish Oil (colour - natural): This is a traditional oil which will help to bring out the natural grain of the wood whilst giving it a satin/gloss sheen.
- Danish Oil (colour - antique): This oil has a slight stain in it to give the wood an antique appearance whilst giving it a satin/gloss sheen.
- Danish Oil (colour - jacobean oak): This oil has a slight stain in it to give the wood a darker appearance similar to antique oak, whilst giving it a satin/gloss sheen.

Style
- Flame: The board is machine sanded to give a clean surface and then lightly scorched with a blow torch to highlight the grain. We then a apply a natural colour danish oil to protect the wood.
- Charred: Fully scorched using the Japanese "Shou Sugi Ban" technique of torching the wood with a blow torch to give a rich, darkened appearance. The wood is then meticulously scraped with a wire brush to remove the loose charred pine and reveal a beautiful contrast and texture. We then a apply a natural colour danish oil to protect the wood.
- Coloured: Charred as above, but with an additional coloured stain applied to give a vibrant finish, available in a number of different colours. We then a apply a natural colour danish oil to protect the wood. To choose a colour please add the "Charred - Coloured" item to your basket, then when you view your basket you will see a "Add instructions to seller" option. Please specify the colour here.
--- Available colours - Rustic Red, Midnight Blue, Amber, White Wash and more - please contact us to discuss specific colour request and we will be happy to help.
Please note
- Because the item is a reclaimed natural timber (if "reclaimed" selected), the product you receive will be slightly different to the photos above, and may have various dents, cracks, and knots.
- We make sure that all of our boards are carefully selected so that they both look great and are structurally sound. They are always free of paint.
- The photos are a good representation of what you will receive but each board will be slightly different to the next.
- The colour will also vary according to the screen it is displayed on.
---
Customer Reviews
Customer Reviews
15/10/2021
Haidee E.

United Kingdom
Fast delivery and just what we ordered
I sent off for a couple of samples to check the grade of sanding and colour of stain that I thought would suit the bookshelf that I want to build. They arrived quickly and of good quality so I will shortly be putting in my order.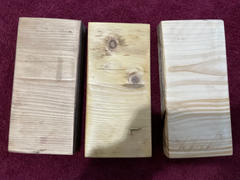 19/10/2021
The Scaff Shop
Hi Haidee. Thank you for the review. These really do mean a lot to us. Glad you are happy with the service. Many Thanks The Scaff Shop
17/09/2021
Donna W.

United Kingdom
23/08/2021
Kayleigh S.

United Kingdom
Fast delivery
We ordered samples to help decide what finish would match our wooden floor. It is a great option to make sure new items go with existing decoration. Samples arrived really quickly and were larger than expected which was great to help decision making.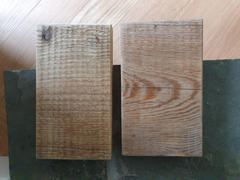 25/08/2021
The Scaff Shop
Hi Kayleigh, thank you very much for the feedback, we're glad you're happy with them. If you need any extra help with the decision making then just let us know.