The Board
Please note: These boards are 63mm thick, rather than the standard 38mm thickness. For 38mm boards please click here. See photos above for comparison.

These boards are chunkier than your average scaffold board. Whilst still technically a scaff board, these particular boards are designed for a niche use in the scaffold industry. Because of this they are more heavy duty and therefore a lot thicker than the standard size scaffold board.

This makes them ideal for a chunkier style in shelving and furniture. Even more suited to the rustic or "cottage" look than our standard boards, these will perfectly complement farmhouse style pine dining tables, or solid butcher block style worktops.
If our boards could speak, they could each tell a different story. Instead of words, they show this through their knocks and dents, their scratches and scrapes, all of which add to their charm and make it so that no board is the same as another.

Remember - it's these imperfections that make them perfect!
Item Specifications
This listing is for an unsanded reclaimed "chunky" board. For sanded or styled "chunky" boards, or any of our standard thickness reclaimed boards, please click back to our Reclaimed Scaffold Boards product category. For new boards please click here. Brackets not included with this listing - please see brackets here.

Grade: British Standard, kite-marked (highest grade available)
Material: Wood (pine or European whitewood)
Dimensions (approx): 225mm wide, 63mm thick, length as per options above
End bands: Unsanded boards will usually be sent de-banded, however we cannot guarantee this on all orders. If you specifically require the boards de-banded then please get in touch before ordering and we can advise if there will be an extra cost to ensure this.
Item No: RC21

Shipping
Shipping is calculated at checkout. To see an estimate for shipping, please add the required items to your basket, view your basket, then click "Get shipping estimates". You are also welcome to collect from our Frome (Somerset) shop for no charge, this option is available at checkout.
Please note
- Please refer to our Product Notes page (click here) for advice on some things to consider when buying this product. We ask all customers to read this before purchasing.
Cutting service
We do not charge any extra to cut a board to a particular length. To make use of this service please add to your basket the next larger size of board to the size you require, for example if you would like a 55cm length board and an 82cm length board please add one 60cm board and one 90cm board.
We do charge for rip cuts to a particular width, at £1 per foot (30cm). For example, to rip a 300cm (10ft) board from 225mm wide to 180mm width, the cost would be £10 for this service. You can add this to your order by adding the Rip Cut product below - you will initially only be able to add 1 at £1, but when you go to your basket you can adjust the quantity accordingly (in the above example you would change the quantity to 10). Don't worry - if you choose too many or too few then we can always edit the order for you and credit/invoice for the balance.
You can then let us know the custom sizes you require at the basket stage. When you view your basket you should see an option to "Add instructions for seller" - please click on this and specify the required sizes. We'll see this note on your order and cut accordingly.
Samples
To purchase any of the above options in a smaller sample size please see our Sample Pieces.
---
Customer Reviews
12/11/2022
James M.

United Kingdom
Very happy with my order
Arrived within the time they said, scaffold boards came up beautifully, well worth giving it a go, they have made some lovely shelves. I will be going reclaimed wood from now on rather than mass bought mdf ikea equivalent where I can.
16/11/2022
The Scaff Shop
Hi James. Thank you for your review it really helps us improve our company. Natural timber always wins for me. I do understand Ikea's methods, in fact scaffold boards were mentioned on upcycling ikea products for furniture on tv. Maybe they will come around one day. I may even cook some meatballs for their arrival. Many Thanks
08/11/2022
Rory O.

United Kingdom
Brilliant material for rustic uses
Great value and quality for utilisation to make rustic furniture, used to make some rustic style alcove shelves - haven't sanded them down yet and they're already getting compliments.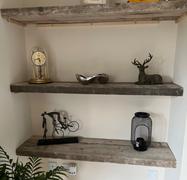 08/11/2022
The Scaff Shop
Hi Rory, Thank you for your positive review and ace photo! Yes the boards do indeed make really great shelves, we are glad that you are pleased with them. Please let us know if we can be of any more help. Many Thanks, The Scaff Shop
10/06/2021
Jason C.

United Kingdom
Great quality and much cleaner than expected.
I purchased a large variety fo boards from 4ft to 8ft. Really straight, very little cupping and pretty clean. Was able to start sanding straight away.Delivery quote was high so picked up instead (2hr drive each way).
10/08/2021
The Scaff Shop
Thank you very much for the feedback. Great to hear that you were happy with the items. Delivery is always an issue with these - most couriers won't even take them due to the size and weight! Thanks for coming and picking up your order.