---
At a glance
Console table top made from reclaimed scaffold boards, and metal hairpin legs included.
- Width: 225mm (standard scaffold board width)
- Length: From 90cm - 180cm
- Custom sizes available, please enquire
- Legs included, please see options below

---
The Console Table
The console table is a classic piece of furniture that fits in almost any room. Ideal in a hallway for your wallet and keys, it also looks great in a living room, dining room or bedroom with an array of plants on top. Pairing the rugged scaffold board with modern hairpin legs combines classic materials with contemporary design.
The result - a timeless piece of furniture.

Let's not forget the green credentials too, as the boards are re-purposed and made from a sustainable material, so you know that this product has had minimal environmental impact.
Item Specifications
We offer seven different finishes for the console table (please see below). The table in this instance is left with a square end, however we also offer a rounded end (please see here). The tables themselves are all hand-made using a variety of techniques which allows us to retain the rustic feel while giving the table a professional and durable finish.
Grade: British Standard, kite-marked boards (highest grade available)
Material: Wood (pine or European whitewood)
Dimensions (approx): 225mm wide, 38mm thick, length as per options above.
Leg size: Pair of 3-rod hairpin legs at 86cm (34 inches)
Item No: F05

Finish options
We use Danish Oil, a traditional oil which is perfect for bringing out the natural grain of the wood whilst leaving a durable, satin finish.
This is available in three standard oil options and three "special" (flamed) options:
- Natural (light)
- Antique (medium)
- Jacobean Oak (dark)
- Flame: The board is machine sanded to give a clean surface and then lightly scorched with a blow torch to highlight the grain. We then a apply a natural colour danish oil to protect the wood. 
- Charred: Machine sanded and then fully scorched using the Japanese "Shou Sugi Ban" technique of torching the wood with a blow torch to give a rich, darkened appearance. The wood is then meticulously scraped with a wire brush to remove the loose charred pine and reveal a beautiful contrast and texture. We then a apply a natural colour danish oil to protect the wood. 
- Charred and Coloured: Charred as above, but with an additional coloured stain applied to give a vibrant finish, available in a number of different colours. We then a apply a natural colour danish oil to protect the wood.. To choose a colour please add the "Charred - Coloured" item to your basket, then when you view your basket you will see a "Add instructions to seller" option. Please specify the colour here.
--- Available colours - Rustic Red, Midnight Blue, Amber, White Wash and more - please contact us to discuss specific colour request and we will be happy to help.

We generally recommend ordering a sample so that you can make sure your preferred oil option is right for you.
Leg colour options
- Available in Black, White, Copper, Brass.
- Additional and custom colours available on request.

Please note
- Please refer to our Product Notes page (click here) for advice on some things to consider when buying this product. We ask all customers to read this before purchasing.
Custom Pieces

If you have a custom piece in mind then please do get in touch and we'll be happy to discuss this with you.

---
Customer Reviews
10/02/2023
Debbie

United Kingdom
Absolutely perfect
My experience has been extremely positive with TheScaff Shop. It was very easy to order, the prices are spot on and the quality is extremely high which I haven't seen with other sellers and I did a lot of research before I purchased. I didn't order a sample as I found the colours online to be true to the actual description. The colour I ordered blends perfectly with my wooden floor. The legs were easy to put in place, just make sure you don't go right through as I did with one screw but thankfully it blended in with the rustic character. I'm in love with my console and fits in just nicely, my living room isn't large so this is ideal.
13/02/2023
The Scaff Shop
Hi Debbie, Thank you for the kind review, very nice of you. We are happy to hear that you are so pleased with the console table, it does look really great in your photos. We try to make our website easy to use, plus we are here to answer any questions or queries. Its good to know that the legs are correctly positioned and that they are doing their job well! Just let us know if you need any more help. Many Thanks, The Scaff Shop
12/12/2022
joe m.

United Kingdom
Absolutely beautiful piece of furniture
I've been looking for a sideboard for a long time which has character and could fit perfectly into my space. I loved the look of this piece on the website and when it arrived it didn't disappoint. Great piece of furniture and love the fact I could have it at a variety of widths to fit.
15/12/2022
The Scaff Shop
Hi Joe, Thank you for the great review; happy to hear that you are so pleased with your order. Many Thanks, The Scaff Shop
13/09/2022
Henri V.

United Kingdom
Side Board
Easy delivery, quick turn around and simple to install. Looks great.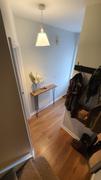 21/09/2022
The Scaff Shop
Hi Henri, Thank you for your great review and the photo; the console table looks really good! We are glad that you are so happy with it. Please let us know if we can be of any more help. Many Thanks, The Scaff Shop