---
At a glance
Corner Desk top made from reclaimed scaffold boards.
- Size: 160cm x 110cm
- Legs available separately, please see below

---
Don't forget the legs!!!
This listing is for the desk top, so make sure to add a set of legs to your basket too. We've got a few options, so please see our recommendations just below, or to see our full range of available legs please see our Accessories page.
Leg recommendations
To see our full range of available legs please see our Accessories page. However we have made recommendations below as to what we feel are good options for this particular desk top.

- Recommendation 1: Hairpin Legs at 71cm - see here.
- Recommendation 2: Hairpin Legs at 86cm - see here.
- Recommendation 3: Box section legs (5 styles) - see here. Please be sure to choose the "Table (H71cm x W58cm)" option.
- Recommendation 4: Tapered Oak Legs - see here.
- Recommendation 5: Mixed legs (as per photos). Please get in touch for a quote.
- Recommendation 6: Suitable for use with legs for the Ikea "Bekant" corner desk range.


Leg colour options
- Hairpin options = available in Raw Steel*, Black, White, Copper, Brass, Red, Yellow.
- Custom colours available on request.
*The raw steel gives a wonderful industrial look, but please note it will rust over time, even indoors

---
Now back to The Corner Desk...
Made from our own scaffold boards, the Reclaimed Scaffold Board Corner Desk is an instant hit in any room. It is particularly well suited to being a desk in an office or bedroom. Pairing the rugged boards with the modern hairpin legs combines classic materials with contemporary design.
The result - a timeless piece of furniture.

The best part is that we allow you to customise the table top and legs, giving you complete freedom of expression and a chance to be a part of the crafting of your item. We sell the table without legs so that you can add your own by choosing from our range of legs over on our Accessories page (we've made some recommendations above). You may even have decided to make your own legs, in which case you're welcome to purchase the table top as it is.

Let's not forget the green credentials too, as the boards are re-purposed and made from a sustainable material, so you know that this product has had minimal environmental impact.
Item Specifications
We offer three different finishes for the desk top (please see below). You can also choose to have it left oriented (same as photos above) or right oriented. The tables themselves are all hand-made using a variety of techniques. The boards are biscuit jointed and sanded, which allows them to retain a wonderful rustic feel whilst having a professional and durable finish.
Grade: British Standard, kite-marked boards (highest grade available)
Material: Wood (pine or European whitewood)
Dimensions: 160cm length x 110cm and width at widest point, 60cm at narrowest. Size is approximate and may vary by 1-3cm due to the reclaimed nature of the boards.
Legs supplied separately (please see above)
Item No: F02b

Finish options
We use Danish Oil, a traditional oil which is perfect for bringing out the natural grain of the wood whilst leaving a durable, satin finish.
This is available in three colour options:
- Natural (light)
- Antique (medium)
- Jacobean Oak (dark)

We generally recommend ordering a sample so that you can make sure your preferred oil option is right for you.
Orientation options
Left: To fit a left corner (as per photos above).
Right: To fit a right corner.

Please note
- Please refer to our Product Notes page (click here) for advice on some things to consider when buying this product. We ask all customers to read this before purchasing.
Custom Pieces

If you have a custom piece in mind then please do get in touch and we'll be happy to discuss this with you.

---
Customer Reviews
03/02/2023
Kerry H.

United Kingdom
Quality Product and Great Service
I'm so pleased with my desk. It arrived well-packaged and in great condition. It is sturdy and looks great! There was a slight delay in dispatching the desk, but The Scaff Shop reached out to explain and kept me well-informed. Thank you!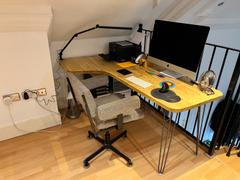 03/02/2023
The Scaff Shop
Hi Kerry, Thank you for the kind review and great picture, the desk looks so cool. Sometimes furniture can take a bit longer to be constructed and shipped out, but we always try to keep customers informed if there is a delay. We are glad to hear that you are so pleased with your order, let us know if we can be of any more help. Many Thanks, The Scaff Shop