The Board
A reclaimed scaffold board is both a functional and beautiful item, displaying all the rugged character of aged wood, but with the strength and hard-wearing qualities that a scaffold board needs to survive the rough and tumble of a building site. As such, they are ideal for a multitude of purposes, whether as flooring, cladding, shelving, furniture and more.

Item Specifications
This listing is for a sanded reclaimed board with two sanding options and three oiling options available (see below). For unsanded or styled reclaimed boards, please click back to our Reclaimed Scaffold Boards product category. For new boards please click here. Brackets not included with this listing - please see brackets here.

Grade: British Standard, kite-marked (highest grade available)
Material: Wood (pine or European whitewood)
Dimensions: 225mm wide, 38mm thick, length as per options above
End Bands: Boards are sent de-banded
Item No: RC02

Sanding options
- Light (hand) sand: We give the board a light sand by hand. This takes out any lumps and bumps and leaves the board smoother than when it is unfinished. All hard edges are also smoothed off.
- Full (machine) sand: The board is drum sanded, which takes out any un-evenness and makes the board more uniform in appearance and thickness. It will still retain many of the characteristic dents and splits which make a reclaimed board what it is, but make it more suitable for furniture making.
- For samples please click here.

Oil options

- None: Does what it says on the tin. But no oil, and no tin, in this instance. Ideal for those who prefer to oil the board themselves.
- Danish Oil (colour - natural): This is a traditional oil which will help to bring out the natural grain of the wood whilst giving it a satin/gloss sheen.
- Danish Oil (colour - antique): This oil has a slight stain in it to give the wood an antique appearance whilst giving it a satin/gloss sheen.
- Danish Oil (colour - jacobean oak): This oil has a slight stain in it to give the wood a darker appearance similar to antique oak, whilst giving it a satin/gloss sheen.
- For samples please click here.

Shipping
Shipping is calculated at checkout. To see an estimate for shipping, please add the required items to your basket, view your basket, then click "Get shipping estimates". You are also welcome to collect from our Frome (Somerset) shop for no charge, this option is available at checkout.
Please note
- Because the item is a reclaimed natural timber, the product you receive will be slightly different to the photos above, and may have various dents, cracks, and knots.
- We make sure that all of our boards are carefully selected so that they both look great and are structurally sound. They are always free of paint.
- The colour will also vary according to the screen it is displayed on.
- If using boards to make furniture, please make sure the moisture content is suitable at the time of making. It may be necessary to further season the wood depending on the project. For further advice, please get in touch.

Cutting service
We do not charge any extra to cut a board to a particular length. To make use of this service please add to your basket the next larger size of board to the size you require, for example if you would like a 55cm length board and an 82cm length board please add one 60cm board and one 90cm board.
We do charge for rip cuts to a particular width, at £1 per foot (30cm). For example, to rip a 300cm (10ft) board from 225mm wide to 180mm width, the cost would be £10 for this service. You can add this to your order by adding the Rip Cut product below - you will initially only be able to add 1 at £1, but when you go to your basket you can adjust the quantity accordingly (in the above example you would change the quantity to 10). Don't worry - if you choose too many or too few then we can always edit the order for you and credit/invoice for the balance.
You can then let us know the custom sizes you require at the basket stage. When you view your basket you should see an option to "Add instructions for seller" - please click on this and specify the required sizes. We'll see this note on your order and cut accordingly.
Samples
To purchase any of the above options in a smaller sample size please see our Sample Pieces.
How "reclaimed" is your board?
We all love rustic looking boards, that's why we're here after all! But one person's idea of rustic can be quite different to another. We want you to be completely happy with the board you receive and so we now offer a representation below for those who would like to specify exactly how rustic they would like their board to be. If you don't have a particular preference then please don't worry, we'll pick a board with plenty of character but still in great condition to use, one we would be happy to have ourselves.
---
Customer Reviews
24/05/2022
Paul H.

United Kingdom
Fantastic product and service!
I bought reclaimed hand sanded boards with a Jacobean finish for shelving and also a console table. All boards were cut to size I required and sanded along with the great finish. Everything came quick and perfectly cut and finished ready for me to put up. Absolutely superb service and product and I would definitely buy from here again.
27/05/2022
The Scaff Shop
Hi Paul, Thank you for the great review. We are glad that you are pleased with your order and happy with our service, hopefully we can help you again in the future. Many Thanks, The Scaff Shop
28/03/2022
Chloe J.

United Kingdom
Just what I wanted!
Delivery took a little time but this was due to stock however they kept me in the loop regarding this so 10/10 for customer service. Boards are great, made into a lush desk!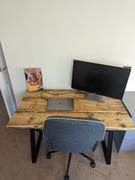 29/03/2022
The Scaff Shop
Hi Chloe, Thank you for the positive review. We are glad you are happy with the boards, your desk looks great! Many Thanks, The Scaff Shop
21/03/2022
Scott J.

United Kingdom
Really impressed...
We ordered and collected from the shop and found everyone so helpful and knowledgeable. We were shown the different finishes of wood and various products in the show room too. When we collected, we were one board short, but asked if this could be delivered to us, so we didnt have to come back out to collect. Of course, this wasnt an issue and the last board was delivered to us the very same day - excellent service, thank you so much!
05/04/2022
The Scaff Shop
Hi Scott, Thank you for the positive review, we are glad that you have had a good experience with us. We always try our best to help, so its nice to hear when our customers are happy. Many Thanks, The Scaff Shop
23/02/2022
Sophie W.

United Kingdom
Brilliant
All very good. The boards were great and the delivery was quick and efficient. Thank you
24/02/2022
The Scaff Shop
Thank you so much for this feedback, please do visit again!
10/02/2022
Caro S.

United Kingdom
Bookshelves
We used the scaffold boards to create a large bookcase, staining them to fit in with our old house. We're really delighted with their quality and can't wait to fill them up! We're already planning to create another set. Thanks so much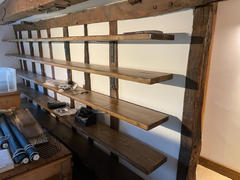 11/02/2022
The Scaff Shop
Hi Caro, they look awesome, thank you so much for the feedback and the photo! Please let us know if there is anything else that we can help with at all in the future.