The Rip Cut

This listing is for the Rip Cut service, not for a product.

The Rip Cut service is £1 per foot/30cm.  For example to rip (reduce the width) of a 300cm (10ft) board from 225mm width to 180mm width, the cost would be £10 for this service.

You can add this product in a quantity of up to 10 using the drop-down above, or for larger quantities begin by adding just 1, then go to your basket where you can then increase the quantity to the required amount.
Don't worry - if you choose too many or too few then we can always edit the order for you and credit/invoice for the balance.
Item No: RCUT01

Customer Reviews
24/05/2022
Paul H.

United Kingdom
Great service
No messing to cut board width, saved me a lot of hassle doing myself and was only £4 to cut the board down.
27/05/2022
The Scaff Shop
Hi Paul, We are always happy to help with cutting board width, especially if it saves our customers time and effort. Many Thanks, The Scaff Shop
06/11/2021
Andrew M.

United Kingdom
Excellent service
I ordered 10 pieces of scaffold cut to size to fit into two alcoves as shelves. 5 of these had to be rip cut also. Everything was perfect and delivery was also very efficient.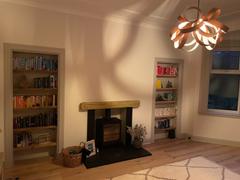 06/12/2021
The Scaff Shop
Hi Andrew, thank you so much for this feedback. We're always working hard to get things spot on so we're super happy to hear that you're so pleased with it all.
02/04/2021
Donovan A.

United Kingdom
Exactly what I was expecting.
Knew exactly what I was buying and needed some boards for a table top so requested something be selected that was not 'too' rustic and beat up. Boards are straight, solid, some good character and reasonably priced, at least for my location. I recommend
28/04/2021
The Scaff Shop
Thanks so much! We're super happy that you're pleased with the product and price.