The Kit
This is our standard reclaimed scaffold board, turned in to a ready-made shelf kit. This means it's cut to size, finished in a select range of options, and with brackets included (hanging, propped, or floating), all boxed together.

It's the big brother of our "Half Scaff" Shelf Kit, which is a narrower version.


Item Specifications
This listing is for a hand sanded reclaimed board, with three oiling options available (see below). The board can be purchased with either our propped or hanging brackets, or with a set of floating brackets (in which case the back edge is rebated and drilled to allow for floating brackets to be inserted and for the board to sit flush against the wall). Two brackets and wall plugs are included as standard, except for on the 5ft and 6ft sizes where the hanging/propped brackets will be the 40mm (rather than 30mm) type and for all bracket types three brackets are provided instead of two.

Grade: British Standard, kite-marked (highest grade available)
Material: Wood (pine or European whitewood)
Dimensions: 225mm wide, 38mm thick, length as per options above
End Bands: A pair of Scaff Shop branded end bands (see here) with copper nails are included free of charge for each board, but not fixed to the board
Brackets: Included (see above)
Item No: SK03

Oil options
- None: Does what it says on the tin. But no oil, and no tin, in this instance. Ideal for those who prefer to oil the board themselves.
- Danish Oil (colour - natural): This is a traditional oil which will help to bring out the natural grain of the wood whilst giving it a satin/gloss sheen.
- Danish Oil (colour - antique): This oil has a slight stain in it to give the wood an antique appearance whilst giving it a satin/gloss sheen.
- Danish Oil (colour - jacobean oak): This oil has a slight stain in it to give the wood  darker appearance similar to antique oak, whilst giving it a satin/gloss sheen.
- Flamed with Danish Oil (colour - natural): This time we give it our signature "flame" finish, where we lightly scorched the wood with a blow torch to highlight the grain. We then apply danish oil in a "natural" option to bring out the grain further giving it a satin/gloss sheen.
- The above finishes are our most popular, which is why we have selected here. However, more finishes are available by building the shelf kit from our reclaimed boards (see here) and brackets (see here).

Corner options
- Square: The corners are left square as on the original board, although are very slightly rounded in the sanding process. This is the default option (no extra charge).
- Rounded: Here we round the front corners off with a jigsaw, giving a lovely gentle curve at each end (as shown in the main photo above). There is a £5 charge for this service per shelf (i.e. both front corners rounded). To request this, please add the "rounded corners" option below. You will need to add the quantity to match the number of shelves ordered.

Please note
- Longer lengths are available, please enquire if you are would like a size longer than 6ft.
- Because the item is a reclaimed natural timber, the product you receive will be slightly different to the photos above, and may have various dents, cracks, and knots.
- We make sure that all of our boards are carefully selected so that they both look great and are structurally sound.
- The photos are a good representation of what you will receive but each board will be slightly different to the next.
- The colour will also vary according to the screen it is displayed on.
- The wall plugs may not be suitable for all wall types. Please choose a plug suitable for your wall or contact us for advice if unsure.
---
Customer Reviews
31/03/2022
Kim G.

United Kingdom
28/03/2022
david f.

United Kingdom
Shelf kit reclaimed vintage finish
Have bought before from scaff shop, This shelf kit is blinding the finish and grain is fantastic.does look like antique even screws for different type walls supplied. Very
29/03/2022
The Scaff Shop
Hi David, Thank you for the great review. We are glad that you are happy with the shelf kit, hopefully we can help you again in the future. Many Thanks, The Scaff Shop
15/02/2022
Kelly L.

United Kingdom
Absolutely what we wanted
So chuffed with the speed, quality and finish of the shelves. We chose not to add the metal ends and the nails to them but we're keeping them just incase for future! We ordered the shelves and received them super quickly, packaged perfectly and they look perfect in our kitchen. Would definitely recommend!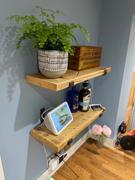 24/02/2022
The Scaff Shop
Hi Kelly, thank you very much for your feedback. The shelves look awesome in your kitchen! Thanks for taking the time to send us a photo.
02/02/2022
Judith B.

United Kingdom
Cannot fault this company
Shelves ordered and delivered within five days. Excellent quality and all screws and rawlpulgs for both plasterboard and brick included. Cannot fault this company and would highly recommend
07/02/2022
The Scaff Shop
Thank you for this and glad you are happy.
25/01/2022
Stephen P.

United Kingdom
Perfect
It's perfect for the look I'm going for. Well made, well finished and great communication from they guys
01/02/2022
The Scaff Shop
Hi Stephen, thank you so much for your kind feedback!