The Kit
This is our standard reclaimed scaffold board, turned in to a ready-made shelf kit. This means it's cut to size, finished in a select range of options, and with brackets included (hanging, propped, or floating), all boxed together.

It's the big brother of our "Half Scaff" Shelf Kit, which is a narrower version.


Item Specifications
This listing is for a hand sanded reclaimed board, with four finish options available (see below). The board can be purchased with either our propped or hanging brackets, or with a set of floating brackets (in which case the back edge is rebated and drilled to allow for floating brackets to be inserted and for the board to sit flush against the wall). Two brackets and wall plugs are included as standard, except for on the 5ft and 6ft sizes where the hanging/propped brackets will be the 40mm (rather than 30mm) type and for all bracket types three brackets are provided instead of two.

Grade: British Standard, kite-marked (highest grade available)
Material: Wood (pine or European whitewood)
Dimensions (approx): 225mm wide, 38mm thick, length as per options above
End Bands: A pair of Scaff Shop branded end bands (see here) with copper nails are included free of charge for each board, but not fixed to the board
Brackets: Included (see above), black colour
Item No: SK03

Finish options
We use Danish Oil, a traditional oil which is perfect for bringing out the natural grain of the wood whilst leaving a durable, satin finish.
This is available in three colour options and one "special" (flamed) option:
- Natural (light)
- Antique (medium)
- Jacobean Oak (dark)
- Flamed & Natural: This time we give it our signature "flame" finish, where we lightly scorched the wood with a blow torch to highlight the grain. We then apply danish oil in a "natural" option
The above finishes are our most popular, which is why we have selected here. However, more finishes are available by building the shelf kit from our reclaimed boards (see here) and brackets (see here).
We generally recommend ordering a sample so that you can make sure your preferred oil option is right for you.

Corner options
- Square: The corners are left square as on the original board, although are very slightly rounded in the sanding process. This is the default option (no extra charge).
- Rounded: Here we round the front corners off with a jigsaw, giving a lovely gentle curve at each end (as shown in the main photo above). There is a £5 charge for this service per shelf (i.e. both front corners rounded). To request this, please add the "rounded corners" option below. You will need to add the quantity to match the number of shelves ordered.

Please note
- Longer lengths are available, please enquire if you are would like a size longer than 6ft.
- Please refer to our Product Notes page (click here) for advice on some things to consider when buying this product. We ask all customers to read this before purchasing.
---
Customer Reviews
11/03/2023
Rachael W.

United Kingdom
Excellent service and quality
We are really pleased with our shelves, they are excellent quality and were so easy to fit. Ordering was straight forward, and delivery and communication was fantastic. Very happy.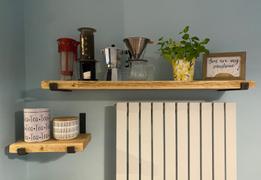 17/03/2023
The Scaff Shop
Hi Rachael, Thank you for kind review and brilliant photo. Our boards are definitely a popular choice for shelving as they are strong, great quality and they look so good - yours look awesome on your wall. We are glad to hear that you are so happy with our products and service, please let us know if you need anything else from us. Many Thanks, The Scaff Shop
09/03/2023
Olivia B.

United Kingdom
Beautiful shelves
Excellent quality shelves, fast service , would highly recommend, already looking at buying some more for our bedroom!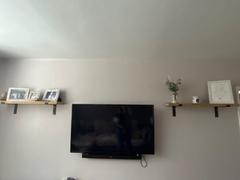 17/03/2023
The Scaff Shop
Hi Olivia, Thank you for your great review and excellent photo. Yes the boards do make superb quality shelves; although they are handmade custom items we do try to get them dispatched as quickly as possible. We are pleased to hear that you are so happy with them, if you do need any more then please let us know. Many Thanks, The Scaff Shop
03/03/2023
Harry W.

United Kingdom
Slow & disappointing
Waited 2 weeks to dispatch & expected the 'scaffold features' to be pre applied instead of having to nail in myself.
08/03/2023
The Scaff Shop
Hi Harry, Thank you for your feedback. Our lead time for orders is around 10 working days, there is notice on our website explaining that during busy periods it may be slightly longer. These are custom made items that do take time and care to produce. Thank you for your patience. We include the metal end bands with the shelf kits; it is then an individual's choice to decide whether to attach them or not, as not everybody wants to have them on the ends of their shelf. Many Thanks, The Scaff Shop
16/02/2023
DAVID A.

United Kingdom
Love these shelves
The shelves are great looking and pretty straightforward to put up. Love how they look and are super sturdy. Much nicer than boring old MDF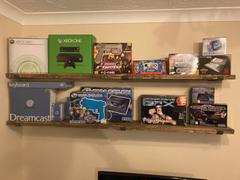 21/02/2023
The Scaff Shop
Hi David, Thank you for your positive review and great photo. Firstly, yes the boards do make excellent shelves, as they are strong and look very cool when they have been put up. Secondly, we have to say that is a superb selection of classic and retro gaming consoles that you have got on display there! We are very jealous of your awesome collection! Many Thanks, The Scaff Shop
23/01/2023
David E.

United Kingdom
Excellent product and service
Excellent service and product, arrived inside date stated and everything required for fixing on the walls. Would definitely recommend
25/01/2023
The Scaff Shop
Hi David, Thank you for your great review and superb pictures. Glad that you are happy with our service and products, the shelves do look great. Just let us know if you need anything else from us in the future. Many Thanks, The Scaff Shop