The Kit
This is our standard reclaimed scaffold board, turned in to a ready-made shelf kit. This means it's cut to size, finished in a select range of options, and with brackets included (hanging, propped, or floating), all boxed together.

This "Half Scaff" shelf is half the width of the original "Full Scaff" Shelf Kit. It's the perfect size for smaller ornaments and plants, and won't risk overpowering your space.

I called it "cute", but apparently that's not proper for something so sturdy.


Item Specifications
This listing is for a hand sanded reclaimed board, with three oiling options available (see below). The board can be purchased with either our propped or hanging brackets, or with a set of floating brackets (in which case the back edge is rebated and drilled to allow for floating brackets to be inserted and for the board to sit flush against the wall). Two brackets and wall plugs are included as standard, except for on the 5ft and 6ft sizes where for all bracket types three brackets are provided instead of two.

Grade: British Standard, kite-marked (highest grade available)
Material: Wood (pine or European whitewood)
Dimensions: 110mm wide (however we can cut to different widths if you require), 38mm thick, length as per options above
Brackets: Included (see above)
Item No: SK01

Oil options
- None: Does what it says on the tin. But no oil, and no tin, in this instance. Ideal for those who prefer to oil the board themselves.
- Danish Oil (colour - natural): This is a traditional oil which will help to bring out the natural grain of the wood whilst giving it a satin/gloss sheen.
- Danish Oil (colour - antique): This oil has a slight stain in it to give the wood an antique appearance whilst giving it a satin/gloss sheen.
- Danish Oil (colour - jacobean oak): This oil has a slight stain in it to give the wood a darker appearance similar to antique oak, whilst giving it a satin/gloss sheen.
- Flamed with Danish Oil (colour - natural): This time we give it our signature "flame" finish, where we lightly scorched the wood with a blow torch to highlight the grain. We then apply danish oil in a "natural" option to bring out the grain further giving it a satin/gloss sheen.
Corner options
- Square: The corners are left square as on the original board, although are very slightly rounded in the sanding process. This is the default option (no extra charge).
- Rounded: Here we round the front corners off with a jigsaw, giving a lovely gentle curve at each end (as shown in the main photo above). There is a £5 charge for this service per shelf (i.e. both front corners rounded). To request this, please add the "rounded corners" option below. You will need to add the quantity to match the number of shelves ordered.

Please note
- Longer lengths are available, please enquire if you are would like a size longer than 6ft.
- Because the item is a reclaimed natural timber, the product you receive will be slightly different to the photos above, and may have various dents, cracks, and knots.
- We make sure that all of our boards are carefully selected so that they both look great and are structurally sound.
- The photos are a good representation of what you will receive but each board will be slightly different to the next.
- The colour will also vary according to the screen it is displayed on.
- The wall plugs may not be suitable for all wall types. Please choose a plug suitable for your wall or contact us for advice if unsure.
---
Customer Reviews
30/06/2022
Steve L.

United Kingdom
The Most Gorgeous Little Shelf!!
This as far as shelves go, has to be one of the most beautiful little shelf kits ever. Over the moon with it. Lovely colour. I will be buying some larger ones in the future.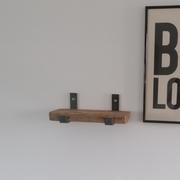 01/07/2022
The Scaff Shop
Hi Steve, Thank you for the great review, much appreciated. We are so glad that you are happy with your order, it looks really great! We will look forward to helping you again in the future. Many Thanks, The Scaff Shop
15/04/2022
Susie B.

United Kingdom
Just... great!
Customer service was brilliant, very helpful and my little half shelf is fabulous :) Thank you
20/04/2022
The Scaff Shop
Hi Susie, Thanks for the nice review, very kind of you. We are happy to help and glad that you are pleased with your shelf. Many Thanks, The Scaff Shop
15/10/2021
Vicky T.

United Kingdom
Excellent service
Excellent service, very happy with result for a great price too.
19/10/2021
The Scaff Shop
Hi Vicky. Thank you for leaving this review. Glad we could help and that you are happy with the service. Many Thanks The Scaff Shop.
31/03/2021
Kevin

United Kingdom
Great product, great service
Ordered a few shelf kits which were promptly delivered and came with everything needed to install. The shelves look great and the help and assistance received after making an initial inquiry was really good. Would definitely recommend, as even someone inept at DIY like myself was able to get three sturdy shelves up on the walls.
28/04/2021
The Scaff Shop
Really pleased to hear that you got them on the wall OK and are happy with them. Please let us know if there is anything else that we can help with in the future.
22/11/2020
Caitlin W.

United Kingdom
Love these!
Really good shelves, just what we were looking for. Great quality at a good price. Thank you!
05/03/2021
The Scaff Shop
Thank you for your kind review