The Kit
This is our standard reclaimed scaffold board, turned in to a ready-made shelf kit. This means it's cut to size, finished in a select range of options, and with brackets included (hanging, propped, or floating), all boxed together.

This "Rad" shelf sits between our "Full Scaff" Shelf Kit and our "Half Scaff" Shelf Kit in terms of width, and so is in effect a three-quarter width shelf. It's the perfect size to sit above a radiator and turn an otherwise uninteresting fixture in to an exciting feature.
Who knew a radiator could be made to look so nice??


Item Specifications
This listing is for a hand sanded reclaimed board, with four finish options available (see below). The board can be purchased with either our propped or hanging brackets, or with a set of floating brackets (in which case the back edge is rebated and drilled to allow for floating brackets to be inserted and for the board to sit flush against the wall). Two brackets and wall plugs are included as standard, except for on the 5ft and 6ft sizes where for all bracket types three brackets are provided instead of two.

Grade: British Standard, kite-marked (highest grade available)
Material: Wood (pine or European whitewood)
Dimensions (approx): 165mm wide (however we can cut to different widths if you require), 38mm thick, length as per options above.
Brackets: Included (see above), black colour
Item No: SK02

Finish options
We use Danish Oil, a traditional oil which is perfect for bringing out the natural grain of the wood whilst leaving a durable, satin finish.
This is available in three colour options and one "special" (flamed) option:
- Natural (light)
- Antique (medium)
- Jacobean Oak (dark)
- Flamed & Natural: This time we give it our signature "flame" finish, where we lightly scorched the wood with a blow torch to highlight the grain. We then apply danish oil in a "natural" option
We generally recommend ordering a sample so that you can make sure your preferred oil option is right for you.
Corner options
- Square: The corners are left square as on the original board, although are very slightly rounded in the sanding process.
- Rounded: Here we round the front corners off with a jigsaw, giving a lovely gentle curve at each end (as shown in the main photo above). There is a £5 charge for this service per shelf (i.e. both front corners rounded). To request this, please add the "rounded corners" option below. You will need to add the quantity to match the number of shelves ordered.
Please note
- Longer lengths are available, please enquire if you are would like a size longer than 6ft.
- Please refer to our Product Notes page (click here) for advice on some things to consider when buying this product. We ask all customers to read this before purchasing.
---
Customer Reviews
31/07/2022
Ian K.

United Kingdom
15/05/2022
Lindsay G.

United Kingdom
Rad Shelf
Loved the shelf.Simple and effective.So many comments about it.Looks fab in my hallway.Great service.Highly recommend the Scaff Shop
18/05/2022
The Scaff Shop
Hi Lindsay, Thanks for the great review, very kind of you. We are glad that you are happy with the shelf, hopefully we can help you out again in the future. Many Thanks, The Scaff Shop
25/01/2022
Stephen P.

United Kingdom
14/11/2021
tom d.

United Kingdom
The Reclaimed "Rad" Shelf Kit
Excellent item and good service.
06/12/2021
The Scaff Shop
Hi Tom, thanks for the feedback and we're pleased to hear that you're happy with the items and service :).
11/11/2021
Scott T.

United Kingdom
The perfect Rad shelf
A brilliant way to dress up a boring radiator. Great, chunky, rustic shelf with bags of character. Easy to fit the secret brackets. Top stuff!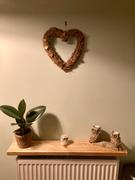 06/12/2021
The Scaff Shop
Hi Scott, the radiator shelf is looking awesome there! Thanks for ordering from us and please let us know if there is anything else that we can help with in the future.