The Board
We may specialise in reclaimed scaffold boards, but for some purposes a new one fits the bill better. For certain locations and purposes, a new board can give a more refined look where a reclaimed one wouldn't.

Our new boards are completely unused.

Item Specifications
This listing is for an unsanded new board. For sanded or styled new boards, please click back to our New Scaffold Boards product category. For reclaimed boards please click here. Brackets not included with this listing - please see brackets here.

Grade: British Standard, kite-marked (highest grade available)
Material: Wood (pine or European whitewood)
Dimensions (approx): 225mm wide, 38mm thick, length as per options above
End bands: Boards are sent de-banded
Item No: N01

Shipping
Shipping is calculated at checkout. To see an estimate for shipping, please add the required items to your basket, view your basket, then click "Get shipping estimates". You are also welcome to collect from our Frome (Somerset) shop for no charge, this option is available at checkout.
Please note
- Please refer to our Product Notes page (click here) for advice on some things to consider when buying this product. We ask all customers to read this before purchasing.
Cutting service
We do not charge any extra to cut a board to a particular length. To make use of this service please add to your basket the closest size of board to the size you require, for example if you would like a 55cm length board and an 82cm length board please add one 60cm board and one 90cm board.
We do charge for rip cuts to a particular width, at £1 per foot (30cm). For example, to rip a 300cm (10ft) board from 225mm wide to 180mm width, the cost would be £10 for this service. You can add this to your order by adding the Rip Cut product below - you will initially only be able to add 1 at £1, but when you go to your basket you can adjust the quantity accordingly (in the above example you would change the quantity to 10). Don't worry - if you choose too many or too few then we can always edit the order for you and credit/invoice for the balance.
You can then let us know the custom sizes you require at the basket stage. When you view your basket you should see an option to "Add instructions for seller" - please click on this and specify the required sizes. We'll see this note on your order and cut accordingly.
Samples
To purchase any of the above options in a smaller sample size please see our Sample Pieces.
---
Customer Reviews
15/11/2022
Paul A.

United Kingdom
Scaffold boards
Very pleased with the boards i purchased, good value, would recommend the scaff shop
16/11/2022
The Scaff Shop
Hi Paul. Thank you for your feedback and glad you are happy with the product and service. Many Thanks
10/09/2022
Danni L.

United Kingdom
New scaff board table
Excellent, easy to order and good delivery time. Board was beautiful and sanded down nicely then was easily varnished.
16/09/2022
The Scaff Shop
Hi Danni, Thanks for the great review and the images, they look really good! We are glad that you are pleased with your order, hope that we can help you again in the future. Many Thanks, The Scaff Shop
24/05/2022
Liz G.

United Kingdom
Will use again
Very helpful contacts, great product & good value - just wish it was open on a Saturday for collection as struggled to collect during their open hours due to working
27/05/2022
The Scaff Shop
Hi Liz, Thanks for your positive review. We are pleased that you are happy with our products and service, we do try our best to make sure customers get exactly what they need. Regarding collections; we don't currently open at weekends but we may possibly look at Saturday opening in the future, once our showroom is completely finished. Many Thanks, The Scaff Shop
13/05/2022
Oliver D.

United Kingdom
Great efficient service, good quality materials
Excellent, quick and efficient, great service allround.
18/05/2022
The Scaff Shop
Hi Oliver, Thanks for the great review. We aim to please, so we are glad that you are happy with the service. Hopefully we can help you again in the future. Many Thanks, The Scaff Shop
07/04/2022
Graham

United Kingdom
Good timber, plentiful options on sizes, effective delivery
Needed some specific size new pallet wood for a bespoke barn door build for a customer, Searching around locally (midland) NO ONE would supply small amounts only lorry loads! So during a web search discovered the scaff shop. A couple of emails later confirmed the order and two days later it was delivered! The timber is good quality and clearly fresh cut, Its been sitting for a week now drying out nicely and so far none has warped, split or checked in any way. Once dry I recon this is going to make a great bespoke barn door for my client. Will definitely be using these guys again.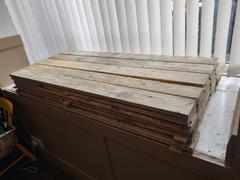 08/04/2022
The Scaff Shop
Hi Graham, Thanks for the great review. We are glad that you are pleased with the pallet wood and happy that we could supply what you needed. Hopefully we can help you again in the future. Many Thanks, The Scaff Shop