The Board
We may specialise in reclaimed scaffold boards, but for some purposes a new one fits the bill better. For certain locations and purposes, a new board can give a more refined look where a reclaimed one wouldn't.

Our new boards are completely unused.

Item Specifications
This listing is for an unsanded new board. For sanded or styled new boards, please click back to our New Scaffold Boards product category. For reclaimed boards please click here. Brackets not included with this listing - please see brackets here.

Grade: British Standard, kite-marked (highest grade available)
Material: Wood (pine or European whitewood)
Dimensions (approx): 225mm wide, 38mm thick, length as per options above
End bands: Boards are sent de-banded
Item No: N01

Shipping
Shipping is calculated at checkout. To see an estimate for shipping, please add the required items to your basket, view your basket, then click "Get shipping estimates". You are also welcome to collect from our Frome (Somerset) shop for no charge, this option is available at checkout.
Please note
- Please refer to our Product Notes page (click here) for advice on some things to consider when buying this product. We ask all customers to read this before purchasing.
Cutting service
We do not charge any extra to cut a board to a particular length. To make use of this service please add to your basket the closest size of board to the size you require, for example if you would like a 55cm length board and an 82cm length board please add one 60cm board and one 90cm board.
We do charge for rip cuts to a particular width, at £1 per foot (30cm). For example, to rip a 300cm (10ft) board from 225mm wide to 180mm width, the cost would be £10 for this service. You can add this to your order by adding the Rip Cut product below - you will initially only be able to add 1 at £1, but when you go to your basket you can adjust the quantity accordingly (in the above example you would change the quantity to 10). Don't worry - if you choose too many or too few then we can always edit the order for you and credit/invoice for the balance.
You can then let us know the custom sizes you require at the basket stage. When you view your basket you should see an option to "Add instructions for seller" - please click on this and specify the required sizes. We'll see this note on your order and cut accordingly.
Samples
To purchase any of the above options in a smaller sample size please see our Sample Pieces.
---
Customer Reviews
25/09/2023
Christian M.

United Kingdom
New scaff board
Seamless transaction. Board better than anticipated. Will use again.
27/09/2023
The Scaff Shop
Hi Christian, Thank you for your feedback. Glad to hear that the ordering process ran smoothly and that you were pleased with your order. By all means do get in touch again, if you require anything further. Many Thanks, The Scaff Shop
19/04/2023
Vikki E.

United Kingdom
Wood you believe it !!!!!
Easy to order, easy to pay, quick shipment. Now in pride of place where many a happy memory will continue to be made. Already ordered further wood , project number 2 here we come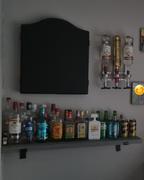 20/04/2023
The Scaff Shop
Hi Vikki, Thank you for your great review and ace photo; the board looks so good there supporting all that precious cargo! We do try to make our website easy to use and we are here to answer any questions or address any problems. It is nice to hear that you have come back for more, repeat business is both welcome and encouraged! Please do let us know how you get on with your future endeavours... Many Thanks, The Scaff Shop
16/01/2023
James M.

United Kingdom
Shelving
Very good, I've used the reclaimed boards quite a few times, but this is the first time using the new boards, they were great!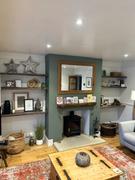 17/01/2023
The Scaff Shop
Hi James, Thanks for your great review and photo. Yes the new boards do offer a different look from the reclaimed, they also make fab shelves. Excellent work! Many Thanks, The Scaff Shop
15/11/2022
Paul A.

United Kingdom
Scaffold boards
Very pleased with the boards i purchased, good value, would recommend the scaff shop
16/11/2022
The Scaff Shop
Hi Paul. Thank you for your feedback and glad you are happy with the product and service. Many Thanks
10/09/2022
Danni L.

United Kingdom
New scaff board table
Excellent, easy to order and good delivery time. Board was beautiful and sanded down nicely then was easily varnished.
16/09/2022
The Scaff Shop
Hi Danni, Thanks for the great review and the images, they look really good! We are glad that you are pleased with your order, hope that we can help you again in the future. Many Thanks, The Scaff Shop