The Bracket
This bracket is full size, i.e. to fit a 225mm width shelf (standard scaffold board).
Our Scaffold Board Shelf Brackets are the ideal partner to the full width standard or chunky Scaffold Board. Their industrial charm lends itself perfectly to the ruggedness of the board and gives a sturdy support for the shelf and it's contents.
The brackets are available not only in the classic "raw steel" look, but also in a range of exciting colours. Try one of our scorched shelves with a black bracket for a classy pairing, or why not go a little more funky with a Coloured Board in blue and contrast with a yellow bracket??

This bracket is designed specifically to fit our Scaffold Board and would usually be used as a pair on most sizes of board, although you may wish to use a set of three or even four on larger sizes (see recommendations below). Also the difference between the 30mm and 40mm sizes is more an aesthetic difference, with the 40mm size tending to look better on larger boards. 


Item Specifications

Sold individually (i.e. add a quantity of 2 to make a pair).
Available in either a "hanging" or "propped" option. Includes a set of wall plugs and screws.

Material: Steel
Dimensions: 30mm (suitable for smaller shelves) or 40mm (suitable for larger shelves)
Colours: Raw steel, copper, brass, black, white, yellow, or blue. Other colours available on request
Please note: The wall plugs may not be suitable for all wall types. Please make sure to use a plug suitable for your wall or contact us for advice if unsure.
Item No: A03


How many brackets are needed?

There's no hard and fast rule for how many brackets you will require for each shelf - it depends on the type of wall they're going in to and what you plan to put on them. However, we've made a guide of what we consider to be the minimum required.

Shelf Size - Quantity of brackets:
30-150cm (1-5ft) - 2 brackets
180-270cm (6-9ft) - 3 brackets
300-390cm (10-13ft) - 4 brackets


---
Customer Reviews
01/03/2023
Daryl a.

United Kingdom
Great
Really helpful when we wanted to change our order from collection to delivery. Really happy with our brackets. Thanks!
01/03/2023
The Scaff Shop
Hi Jon, Thank you for your positive feedback. We are here to help, it was no problem at all to sort that out for you. Happy to hear that you are so pleased with your shelf brackets. Many Thanks, The Scaff Shop
14/11/2022
Alan H.

United Kingdom
Book Shelf
The Scaff Shop are an excellent independent company. Very good on-line experience and order communication. Timely delivery and good quality. The only slight constructive comment would be to improve the paint finish on the black brackets but Rome wasn't built in a day. Keep up the good work!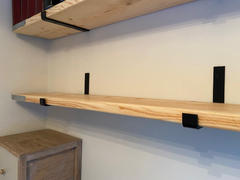 16/11/2022
The Scaff Shop
Hi Allen Thank you for this review and the photo of your shelves, they do look great. I am glad you were happy with your product and noted for the brackets. I will speak with our sprayer and see what we can do. Many Thanks
23/10/2022
Mrs y.

United Kingdom
Shelves
Lovely quality.
26/10/2022
The Scaff Shop
Hi Yvonne, Thanks for your positive review. We agree, the boards do make excellent quality shelves. Happy to hear that you are pleased with them. Please do let us know if you need any more help from us. Many Thanks, The Scaff Shop
13/10/2022
Maurie B.

United Kingdom
Director
Very good product value for money
20/10/2022
The Scaff Shop
Hi Maurie, Thanks for your great review. We are happy that you are so pleased with our product, the shelf brackets make a really nice accessory. If you need any more help from us in the future please let us know. Many Thanks, The Scaff Shop
25/09/2022
Johanna E.

United Kingdom
Well made shelf bracket
Great website, photos really helped not only to check the quality of the products but also for ideas. Good communication about the order and delivery, brackets were well packaged. Very happy with the look. Recommend and will definitely order again for the bathroom shelving.
29/09/2022
The Scaff Shop
Hi Johanna, Thank you for the positive review, we do work hard on our website to give a good impression of our products, as well as to provide inspiration for other potential projects. The shelf brackets make the perfect accessory for the boards, we are happy that you are so pleased with them. We look forward to helping you again in the future. Many Thanks, The Scaff Shop