The Bracket
This bracket is full size, i.e. to fit a 225mm width shelf (standard scaffold board).
Our Scaffold Board Shelf Brackets are the ideal partner to the full width standard or chunky Scaffold Board. Their industrial charm lends itself perfectly to the ruggedness of the board and gives a sturdy support for the shelf and it's contents.
These brackets are made in Frome by a local, independent fabricator. The quality and thickness is superior to many similar brackets which are instead imported.
The brackets are available not only in the classic "raw steel" look, but also in a range of exciting colours. Try one of our scorched shelves with a black bracket for a classy pairing, or why not go a little more funky with a Coloured Board in blue and contrast with a yellow bracket??

This bracket is designed specifically to fit our Scaffold Board and would usually be used as a pair on most sizes of board, although you may wish to use a set of three or even four on larger sizes (see recommendations below). Also the difference between the 30mm and 40mm sizes is more an aesthetic difference, with the 40mm size tending to look better on larger boards. 


Item Specifications

Sold individually (i.e. add a quantity of 2 to make a pair).
Available in either a "hanging" or "propped" option. Includes a set of wall plugs and screws.

Material: Steel
Dimensions: 30mm (suitable for smaller shelves) or 40mm (suitable for larger shelves)
Colours: Raw steel, copper, brass, black, white, yellow, or blue. Other colours available on request
Please note: The wall plugs may not be suitable for all wall types. Please make sure to use a plug suitable for your wall or contact us for advice if unsure.


How many brackets are needed?

There's no hard and fast rule for how many brackets you will require for each shelf - it depends on the type of wall they're going in to and what you plan to put on them. However, we've made a guide of what we consider to be the minimum required.

Shelf Size - Quantity of brackets:
30-150cm (1-5ft) - 2 brackets
180-270cm (6-9ft) - 3 brackets
300-390cm (10-13ft) - 4 brackets


---
Customer Reviews
Customer Reviews
08/09/2021
Martin C.

United Kingdom
These look great
My antique, machine-sanded shelves look great, delivery was prompt and I think prices are fair, although the cost of the brackets adds up when you need more than a few. I haven't fitted them yet as the kitchen is a work in progress, but I'm confident they'll be precisely what I wanted. I would certainly recommend The Scaff Shop.
16/09/2021
The Scaff Shop
Thank you very much for the feedback. We're happy to hear that you're pleased with the items. Let us know if there's anything else that you require!
30/07/2021
thomas c.

United Kingdom
Great shelves thanks
I use loox reviews on my website which allows customers to post photos of the product in situ, (basically I just want to show you the majesty of my new book shelves) very well finished with a lovely level of distress. A little blonder than I was expecting - but really nice, glad I opted for the extra 1ft, they've transformed my living room
10/08/2021
The Scaff Shop
Thank you very much for this feedback, we're really pleased to hear that you're happy with the finish! The feedback platform should have allowed you to add a photo too, sorry if it didn't do that. We would absolutely love to have a photo from you and we'll be able to link it to this feedback if you wished to send it. Please do feel free to email one across and let us know if there is anything else that we can help with at all.
25/02/2021
Matt W.

United Kingdom
My Dad said it was very good!
Bought these to go with a scaffold plank I'd treated, which I got from my dad (who is a master builder). When he came to help me hang it, he was impressed on the quality of the brackets and the finish. My wife and I love the overall look and the end bands also finish it off really nicely! Thanks Scaff Shop!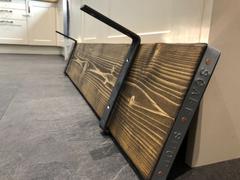 05/03/2021
The Scaff Shop
Thank you for your kind review
29/01/2021
Sharon B.

United Kingdom
Great product
Excellent quality
05/03/2021
The Scaff Shop
Thank you for your kind review
05/12/2020
Jason R.

United Kingdom