The Bracket
This bracket is full size, i.e. to fit a 225mm width shelf (standard scaffold board).
Our Scaffold Board Shelf Brackets are the ideal partner to the full width standard or chunky Scaffold Board. Their industrial charm lends itself perfectly to the ruggedness of the board and gives a sturdy support for the shelf and it's contents.
The brackets are available not only in the classic "raw steel" look, but also in a range of exciting colours. Try one of our scorched shelves with a black bracket for a classy pairing, or why not go a little more funky with a Coloured Board in blue and contrast with a yellow bracket??

This bracket is designed specifically to fit our Scaffold Board and would usually be used as a pair on most sizes of board, although you may wish to use a set of three or even four on larger sizes (see recommendations below). Also the difference between the 30mm and 40mm sizes is more an aesthetic difference, with the 40mm size tending to look better on larger boards. 


Item Specifications

Sold individually (i.e. add a quantity of 2 to make a pair).
Available in either a "hanging" or "propped" option. Includes a set of wall plugs and screws.

Material: Steel
Dimensions: 30mm (suitable for smaller shelves) or 40mm (suitable for larger shelves)
Colours: Raw steel, copper, brass, black, white, yellow, or blue. Other colours available on request
Please note: The wall plugs may not be suitable for all wall types. Please make sure to use a plug suitable for your wall or contact us for advice if unsure.
Item No: A03


How many brackets are needed?

There's no hard and fast rule for how many brackets you will require for each shelf - it depends on the type of wall they're going in to and what you plan to put on them. However, we've made a guide of what we consider to be the minimum required.

Shelf Size - Quantity of brackets:
30-150cm (1-5ft) - 2 brackets
180-270cm (6-9ft) - 3 brackets
300-390cm (10-13ft) - 4 brackets


---
Customer Reviews
15/09/2023
Rebecca C.

United Kingdom
Exactly what we wanted!
Really pleased with quality and appearance. Fits perfectly and looks great. Will be ordering more!
18/09/2023
The Scaff Shop
Hi Rebecca, Thank you for your kind feedback, good to know that you are so pleased with the shelf brackets. Please do let us know if you need anything further. Many Thanks, The Scaff Shop
21/07/2023
Karen L.

United Kingdom
Looks lovely and great quality
It looks lovely and my carpenter was impressed with the quality
25/07/2023
The Scaff Shop
Hi Karen, Thank you for your great review. Happy to hear that you are pleased with your order. Many Thanks, The Scaff Shop
06/06/2023
Michael K.

United Kingdom
Great, unfortunately the job of securing them isn't so easy
I have issues with fixing to the wall as it's a crumbling surface, but the brackets themselves are fine! I'm thinking the supplied screws are quite small in diameter but the state of the wall requires specialised fittings so doing some research before finishing the job. Delivery & items absolutely on point & really appreciated the T Shirt!
08/06/2023
The Scaff Shop
Hi Michael, Thank you for this review. The shelf brackets are strong, in order to support the weight of the board and any objects placed on top of it. The wall plugs that are supplied may not be suitable for all wall types, it is important to use a plug that is correct for your wall. You can contact us for some advice if you are unsure. Glad to hear that you are happy with our products. Many Thanks, The Scaff Shop
30/05/2023
Pili G.

United Kingdom
So chuffed with my shelving!
Positive: Quality Absolutely ADORE my shelving. I went for the reclaimed, unsanded scaff boards which are beautifully pale and natural looking. The yellow brackets are super cute too. I've used them in my kitchen and have taken down the overhead units. It looks so much brighter and more bespoke. I love them so much I'm going to order some more. Would definitely recommend. Very happy with my purchase!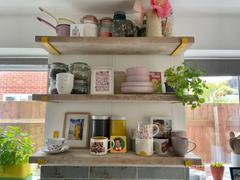 01/06/2023
The Scaff Shop
Hi Pili, Thank you for your excellent review and wonderful photo. The boards look superb and the yellow shelf brackets really compliment them well. Good to know that you are so happy with them, thanks for recommending us. We have just received your second order, thank you very much for using us again! Many Thanks, The Scaff Shop
02/05/2023
Naomi F.

United Kingdom
Scaffold shelf brackets
Ordered two of these to try and they are excellent quality. Really pleased and looking forward to ordering some more to finish the shelves. Delivery took longer than expected due to high demand, but good communication from the Scaff shop.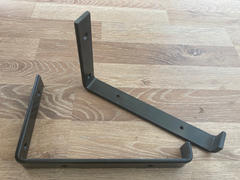 05/05/2023
The Scaff Shop
Hi Naomi, Thank you for your review, pleased to hear that you are happy with your shelf brackets. We do try to keep customers informed if there are going to be delays, thanks for your patience and understanding. Many Thanks, The Scaff Shop